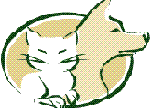 CARE PLAN: PERINEAL URETHROSTOMY
AKA: PU / PENIAL RESECTION SURGERY
Urolithiasis, aka urinary tract stones, are one of the most common forms of urinary tract issues requiring surgical intervention for treatment. A Perineal Urethrostomy is a surgical procedure performed to open the urethra allowing for improved urine flow. In male cats which have obstructed, or "blocked", causing scaring and structural strictures in the urethra the PU surgical procedure resects, or amputates, the end segment of the penis where the stricture generally occurs, allowing for a larger urethral opening to be created. In male dogs, the PU surgery creates a new opening in the urethra to improve urine flow, without having to resect or amputate the penis.
Our veterinary practice surgical protocols for perineal urethrostomy include our hospitals standards of physical examination, blood profile, IV catheter and IV fluids, pre and post operative pain relief including the use of a 3 day narcotic pain patch, anesthesia, surgical procedure, sample collection for bacterial culture and antibiotic sensitivity testing, two day hospital stay, a bite not or e-collar, antibiotics to go home and the post operative follow-up appointment with mild sedation for suture removal.
Perineal Urtherostomy Surgery Package Group

Office Visit & Medical Records
Exam: Anesthesia Procedure
Hospital Day Care: Pre/Post Operative
Complete Blood Count
Blood Chemistry - Major
Acepromazine Inj. Sedation
Butorphanol Inj. Sedation
Anesthesia Support: IV Catheter
Anesthesia Support: IV Fluids
Narcotic Pain Relief Injection
Narcotic Pain Patch, 3 Day Relief
Anesthesia Induction Drugs
Isoflurane Inhalant Gas: First 30 Min. / Additional Minutes.
ECG, Blood Pressure, Temperature Monitor
Staff Monitoring: Anesth. Support
Surgical Suite
Surgical Sterile Preparation
Surgical Instrument Pack
Surgical Materials, Misc.
Laparotomy / Sponges, Excess
Suture Materials, Excess
Gown, Mask, Gloves
Perineal Urethrostomy Surgery
Sample Culture / Antibiotic Sensitivity
Urinary Catheter Placement
NSAID Pain Relief Injection
Antibiotic Tabs Home
Bite Not Collar / E-Collar To Go Home
Overnight Hospital Stay
Progress Evaluation Suture Removal Appointment

Perineal Urethrostomy Surgery $ 900.00 - $ 1100.00