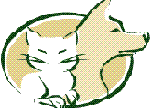 Medical Services:

Wellness Care: Examinations, Immunizations and Preventative Care
We offer preventative and comprehensive health care for every life stage. From pediatrics to gerontology, our health care team will discuss your pet's individual needs, age appropriate screening tests and preventative care recommendations. Our aim is to keep you informed about your pet's health and how you may become more proactive in maintaining optimal wellness. You can read more about the specifics of our Kitten Wellness Care Packges, Puppy Wellness Care Packages and Adult Feline and Canine Wellness Care using the links provided:

Illness and Injury Care:
Unfortunately, despite your best efforts sometimes your companion animals will become sick or injured. For urgent but non-emergency problems, we routinely hold open Illness & Injury Appointment slots on our daily schedule. These "I & I A" block off appointments are not available to be booked until twenty-four hours before hand - giving us the flexibility to see our 'sickies' rapidly. While the available slot may not be at exactly the time you might find most convenient, if you call our practice anytime before 11:00 AM our goal is to be able to offer an open I & I Appointment slot on the same day as your call.

In the event your pet has an emergency, upon your arrival at the practice we will suspend our scheduled appointments while the Veterinarian performs an initial assessment, triages the problem and determines the next most appropriate steps to be taken based on the level of urgency indicated by the situation. In some cases, the nature of the problem may dictate the best level of medical care can be achieved by recommended transfer to a Specialty Referral Practice or a 24 Hour Emergency Practice. We utilize these important options on a case by case basis - including referral for overnight care, monitoring and continuation of treatments which were initiated by our practice during the day.

Specialty Referral and Emrgency Care:
In addition to our own in-house capabilities, we maintain professional working relationships with top diagnostic laboratories, board certified referral specialists and emergency and critical care facilities. We draw upon these relationships to enable us to extend the highest quality of cutting edge surgical and medical science to our patients. Specialist Referrals
Laboratory Diagnostic Testing Available:
Our hospital houses a laboratory onsite providing the capability to perform many types of diagnostic testing to assist us in providing routine preventative care as well as rapid test results on ill or injured patients. To augment our onsite capabilities, we contract with outside laboratories to provide access to more extensive testing including Tissue Biopsy Histopathology, Urinary Stone Analysis, Hormone Evaluation and many other cutting edge medical testing.
Blood Diagnostics:

Complete Blood Count Profiles: White Blood Cells, Red Blood Cells, Platelets

Organ Function Blood Chemistries: Kideny, Liver, Pancreas

Canine Heartworm Screening

Feline Heartworm Screening

Tick Borne Disease Screening: Lyme Disease, Ehrlichia Canis, Rocky Moutain Spotted Fever

Feline Leukemia Vitus / Feline Immunodeficiency Virus Screening

Allergy Screening

Endocrine Hormone Disease Screening: Adernal Gland, Thyroid Gland, Parathyroid Gland, Diabetes

Immune Related Diseases

Eye Diagnostics:

Tonopen Ocular Pressure - Uveitis / Glacoma Screening

Corneal Ulcer / Trauma Dye Screening

Tear Production Screening




Urine & Stool Diagnostics:

Giardia Parasite Screening

Intestinal Parasite Screening

Parvovirus Screening

Urinalysis

Urine Culture and Antibiotic Sensitivity

Diabetes and other Disease Screening

Radiology X-Ray Diagnostics:

In-Hospital Radiology Suite

Orthopedic Radiology Evaluation: Bones and Joints

Thoracic Radiology Evaluation: Heart & Lungs

Abdominal Radiology Evaluation: Liver, Spleen, Kidneys, Intestines, Colon, Bladder

Other Laboratory Diagnostics:

Mange / Sacroptic Mite Skin Screening

Fungal Disease Culture

Infection Culture and Antibiotic Sensitivity

Microscopic Cytology

Histopathology

Autopsy / Necropsy