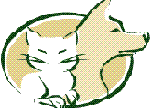 EMPLOYMENT OPPORTUNITIES:

Carolina Animal Hospital uses a team oriented approach to providing patient care and client service. We have a high regard for our staff members abilities and responsibilities and have high expectations of them. In return, we listen to our staff's feedback on better ways to manage our hospital towards delivering on our practice mission. At our core, we emphasize cooperative team work to accomplish that mission and to provide a safe, sensible and comfortable work environment free from many of the 'distractions and concerns' common in day to day practice of veterinary medicine.

In general our practice experiences a very low turnover in staff positions, thus we usually are only actively hiring when it is determined we need to grow our staff to maintain the level of client service and patient care we strive to provide here at Carolina Animal Hospital.

However because we have been experiencing continued growth since opening, we are always on the lookout for compassionate, caring, talented and hard working individuals to join our team when the next new position needs to be created.

Position openings likely to be assessed in the next 18 months include:
Veterinary Technician: RVT / CVT / LVT
Among their varied duties, Veterinary Technicians are responsible for advanced levels of patient care including inducing and monitoring anesthesia, dental prophylaxis cleanings, hospitalized and ICU patient care and emergency triage of patients for the Veterinarian. Our practice restricts the use of the term "Veterinary Technician" solely to those individuals who have completed a formal educational training program in Veterinary Technology and have gained their license credentials from the North Carolina Veterinary Medical Board.

Veterinary Assistant:(4/20/2018) Currently hiring for 1 position.
In our practice we use the term Veterinary Assistant for our staff member positions that have substantial client service and patient care duties but which do not reach the level of a state credentialed Technician. Such duties include anesthesia and surgical assisting, laboratory blood sample collection, in-hospital patient care, and significant client service interaction.

Staff Assistant:
The Staff Assistant role is to support the Veterinary Technician and Veterinary Assistant in the areas of maintaining the hospital, basic patient care, boarding animal care, animal restraint, laboratory sample processing and much more.

Our hiring evaluation process utilizes a resume and personalized cover letter instead of a generic tearsheet form for the first step in employment candidacy. We request you either hand deliver or mail your application to our hospital at the address below. In the event we are not currently hiring, we will keep the cover letter and resume of qualified candidates in our system for 6 months.


Carolina Animal Hospital of Creedmoor
2552 Capitol Drive, Suite 103,
Creedmoor, NC 27522
(919)528-0606